3 Basic Criteria Must be Met to Become a Habitat Homeowner


Habitat homebuyers must meet the following qualifications:
1. Income
Homebuyers must meet Habitat's income guidelines [link to current income guidelines pdf file] and have a source of income to repay a no-interest mortgage. Families must be within the 30% – 80% median income level and not have excessive debt. Income can come from employment, disability, or social security or other source. The income of all working adults is counted towards eligibility.
2. Need
Families must demonstrate need. Families that are first time home buyers, living in inadequate housing (unsafe / unsanitary conditions, overcrowded), and financially unable to move elsewhere, are eligible to apply.
3. Willingness to Partner
A. Sweat Equity Requirement – 700 hours
Families must help construct their homes and the homes of others – volunteer work known as "sweat equity" that develops construction skills and a sense of pride and ownership in their new home. We require 700 hours of sweat equity time from each homeowner family. They may bring in other family members and friends to help them. Most Kaua`i Habitat families do not find it hard to fulfill this requirement.
B. Work with our volunteers and staff
Families must be willing and accommodating about working with staff and volunteers. Kaua`i Habitat brings in its own staff, sub-contractors and teams of volunteers to help the Homeowner build their house. Homeowners need to be flexible and extend their aloha.
C. Help tell the Habitat story on Kaua`i
Habitat relies on many generous volunteers and donors to help Kauai families. Homeowner families are expected to help Kaua`i Habitat and future partner families by sharing the story of their journey.
THE PROCESS

1. Your first step is to get on our notification list.  There is no waiting list of qualified applicants. We keep a list of families that express interest and notify them when we have information sessions and are ready to take applications.
2. Look at your credit history.  Do you have a lot of debt? Habitat homebuyers must be credit-ready and credit-worthy. Trimming back your debt now will make you a better applicant when we are ready to take applications. You need to be able to qualify for a mortgage. In addition, homeowners are required to complete a Homebuyer Education Course before beginning construction.
For a schedule of Homebuyer Education Courses, contact Hawaiian Community Assets directly by phone at (808) 587-7886 or Toll-Free (800) 476-4718, or click the links below for their current Kaua`i schedules:
3. Attend an information session.
4. Turn in a completed application during our application period.  Look at the Our Builds page to understand what part of the island we may have opportunities available and when we will begin to hold information sessions.
 IF SELECTED:
Congratulations! You will undertake a life-changing journey building and owning your own home.
Here's a snapshot of your future build:
Please note schedule is approximate and subject to change.
Months 1-3
√ Fill out paperwork w/ KHfH
√ Homebuyer Education Courses
Months 3-5     
√ Secure loan for fee simple land (if applicable)
√ Secure building permits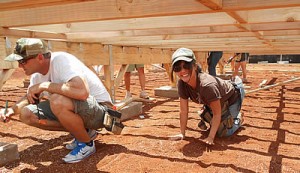 Months 5-8    
Initial and exterior construction
√ Groundbreaking (pouring footings/foundation)
√ Framing (raising walls)
√ Roofing (install trusses)
√ Siding installation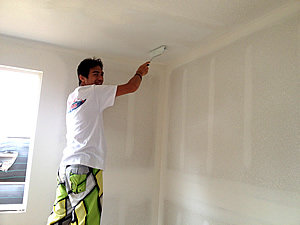 Months 8-9  
Interior construction
√ Drywall
√ Electrical and plumbing
√ Flooring
√ Painting (exterior and interior)
Months 9-10 
√ Finish work
√ Installation of windows, doors, cabinets, countertops, trim, baseboards
√ Final inspection
√ Habitat house blessing and key presentation ceremony
√ MOVE IN!
OTHER OPPORTUNITIES:
Do you already have your own land and otherwise qualify according to our criteria?
Did you inherit a land lease and otherwise qualify?
Do you own a house now that needs extensive renovation and otherwise qualify?