Where are we building right now?
Kaua`i Habitat for Humanity Build sites as of October 2012:
- Anahola – 3 new homes, Pi`ilani Mai Ke Kai subdivision
- Kekaha – 1 repair and renovation project
- `Ele`ele – 1 repair and renovation project
Where have we already built?
Construction was started on our first home in 1992 in the aftermath of Hurricane Iniki. In 2009, Kauai Habitat built its 100th Habitat home. As of July 2012, the affiliate has built 108 affordable Habitat homes and repaired and upgraded 19 substandard homes from the North Shore to the West Side of Kauai.
Today, Habitat homes can be found in the following towns on Kauai:
Anahola
`Ele`ele
Hanalei
Hanapepe
Kekaha
Kapaa
Kalaheo
Kealia
Kekaha
Lawai
Where will we build next?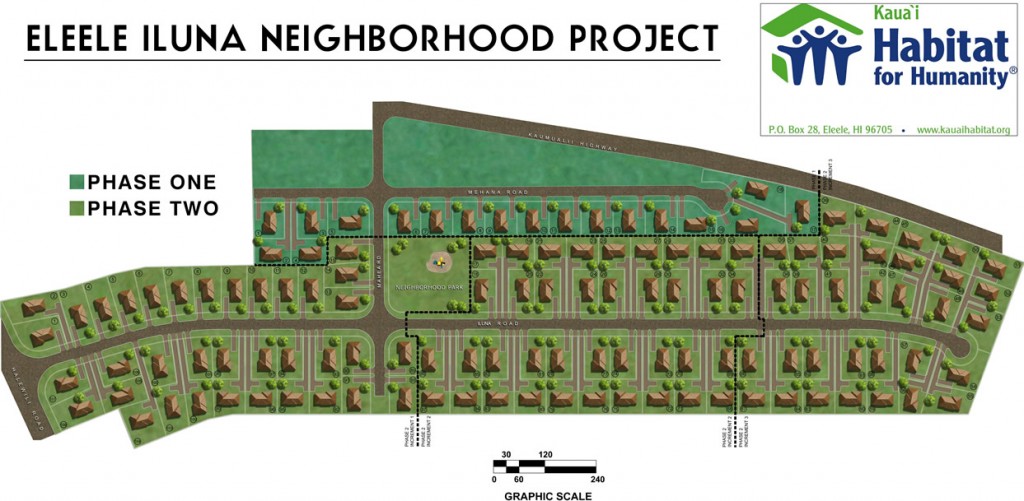 Timeline of future construction, `Ele`ele Iluna subdivision:
*Please note that the dates listed below are approximate and subject to change.
`Ele`ele Iluna subdivision, Phase II-A, 2014-2017
12 lots, construction scheduled Fall 2014
Information sessions/applications available – Spring 2014
Application period – Spring/Summer 2014
Selection Process – Summer 2014
Homeowner Preparation – Summer 2014
Begin construction of 12 houses – Fall 2014
12 lots, construction scheduled Fall 2015
Information sessions/applications available – Spring 2015
Application period – Spring/Summer 2015
Selection Process – Summer 2015
Homeowner Preparation – Summer 2015
Begin construction of 12 houses – Fall 2015
12 lots, construction scheduled Fall 2016
Information sessions/applications available – Spring 2016
Application period – Spring/Summer 2016
Selection Process – Summer 2016
Homeowner Preparation – Summer 2016
Begin construction of 12 houses – Fall 2016
12 lots, construction scheduled Fall 2017
Information sessions/applications available – Spring 2017
Application period – Spring/Summer 2017
Selection Process – Summer 2017
Homeowner Preparation – Summer 2017
Begin construction of 12 houses – Fall 2017